Temperature is a physical property of matter that expresses how hot and cold it is.
Did you know that temperature is the MOST often recorded physical measurement? Knowing the temperature is critical for the correct operation of everything from the human body to an automobile engine, and everything in between.
We need to know the temperature of objects for an almost infinite number of purposes. Temperature is often an indicator that something is wrong: perhaps you have a fever, or the brake pads on your car are about to fail, or a turbine in an energy plant is running too hot. You get the idea.
Temperature is measured with one or more kinds of temperature sensors. There are several available on the market today:
Thermocouple sensors
RTD sensors
Thermistor sensors
Infrared temperature sensors
The most common scales are the Celsius scale (formerly called centigrade, denoted °C), the Fahrenheit scale (denoted °F), and the Kelvin scale (denoted K), the last of which is predominantly used for scientific purposes by conventions of the International System of Units (SI).
Celsius or centigrade scale which is the most often used scale. For this scale, the freezing point of water is considered to be zero degrees, the boiling point is 100 degrees, and each degree in between is an equal 1/100th of the distance between freezing and boiling.
Fahrenheit scale is still widely used in the United States. On the Fahrenheit scale, freezing is 32 degrees and boiling is 212 degrees (180 degrees difference).
Kelvin scale was created to be more scientific. It is the base unit of thermodynamic temperature measurement in the International System (SI) of measurement. It is defined as 1/ 273.16 of the triple point (equilibrium among the solid, liquid, and gaseous phases).
Graphical comparison of scales:
Conversion of temperature between different scales can be expressed with the following equations: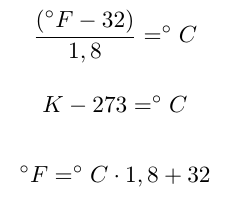 The lowest theoretical temperature is absolute zero, at which no more thermal energy can be extracted from a body. Experimentally, it can only be approached very closely, but not reached, which is recognized in the third law of thermodynamics.
Temperature is important in all fields of natural science, including physics, chemistry, Earth science, medicine, and biology, as well as most aspects of daily life.